Peel & Stick Heat Shield Light
Suited to application requiring greater flexibility
Ideal for: •Fuel Tank/System •Tunnel Shields •Floor pans •Exhaust Systems •Body Shields •Transmissions •Steering Components •Fluid Lines •Rubber Mounts •Axle Bushings •Motor Cycle fairings •Hot Rod
Reviews
Our Peel & Stick Heat Shield Light is easy to form. As the top alumium lay is thinner, this product suits applications where greater versitility is required such as on uneven or irregular surfaces such as under bonnet, motorcycle farings, innner guards, air boxes, batteries and anything that requires greater formability.
For applications near exhaust systems or heat elements to use our Peel & Stick Heat Shield Heavy
Our Peel & Stick Heat Shield is the highest quality heat shield material currently available on the market. Constructed from a needle punched fibreglass with a polyester core it comes complete a super tough aluminium face. This product will not separate or pull apart like other products on the market. The product is so good that leading automotive manufactures use it on production vehicles.
The product has been oven test for 30 hours with no failure at 475ºF (246ºC)

Our Peel & Stick Heat Shield has a unique pressure sensitive adhesive making it easy and versatile to install, particularly in tight spaces. It is widely used as a thermal and acoustical barrier in many industries and works effectively to block heat around fuel tanks/systems, tunnel shields, floor pans, exhaust systems, body shields, transmissions, fluid lines and to protect non ferrous materials.
Features/Advantages
Light Weight

Easily formed into place

Very effective in limited space

Approved at several major OEM's

Acoustical sound deadening benefits without the squeak or rattle issues of stampings

Interior or exterior applications

Easy installation - just peel off the release liner and adhere to surface.
Applications
Fuel tank/system

Tunnel shields

Floor pans

Exhaust systems

Body shields

Transmissions

Steering components

Fluid lines

Rubber mounts

Axle bushings
Installing Peel & Stick Heat Shield
(PS_HS_L)
Sheet sizes are 610mm x 1066mm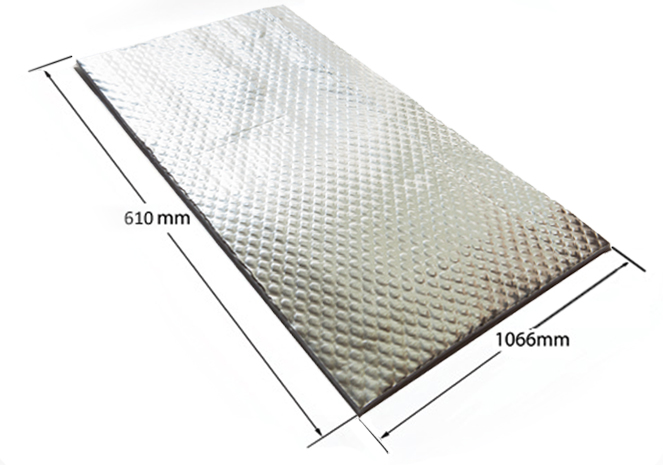 Technical Specifications
Material Type: Polyester & Fiberglass core material
Temperature: Withstands 246ºC (475ºF) oven test for 30 hours with no failure
Core Thickness: 3mm (0.125 inch)
Foil Thickness: 0.05mm
Weight: 915-1400 g/m (3-4.5 oz/ft2)
Moisture Absorption: 0.3%
Thermal Conductivity 24ºC: 0.036 W/m/ºK
(K-value) 93ºC: 0.043 W/m/ºK
Adhesion To E-Coated Steel 22.1 N/cm after 24hr Dwell
Tensile Strength 145 N/cm2
Tear Resistance 222 N/cm
Under body applications
- Transmission tunnels
- Firewalls
- Floor pans
- Under bonnets
- Fuel tanks
- HVAC's
Common Q's
How close can I run this to my headers?
A. If you headers are that close to you firewall there is not much else you can use, In extreme locations like this 'yes' Zero Clearance will work to reflect and reduce the heat transfer.
How does this compare to gold reflective tape
A. Reflective tape is super thin and designed to reflect heat. It is limited in its ability to reduce heat transfer. Our heat shield has a true aluminium face which not only reflects, but also effectively dissipates heat. The composite core thermally insulates, further reducing heat transfer. At 3mm this product is superior and offers better thermal insulation.
Customer Reviews
---
Be The First To Review This Product!
Help other Car Builders - Thermal & Acoustic Insulation Products users shop smarter by writing reviews for products you have purchased.