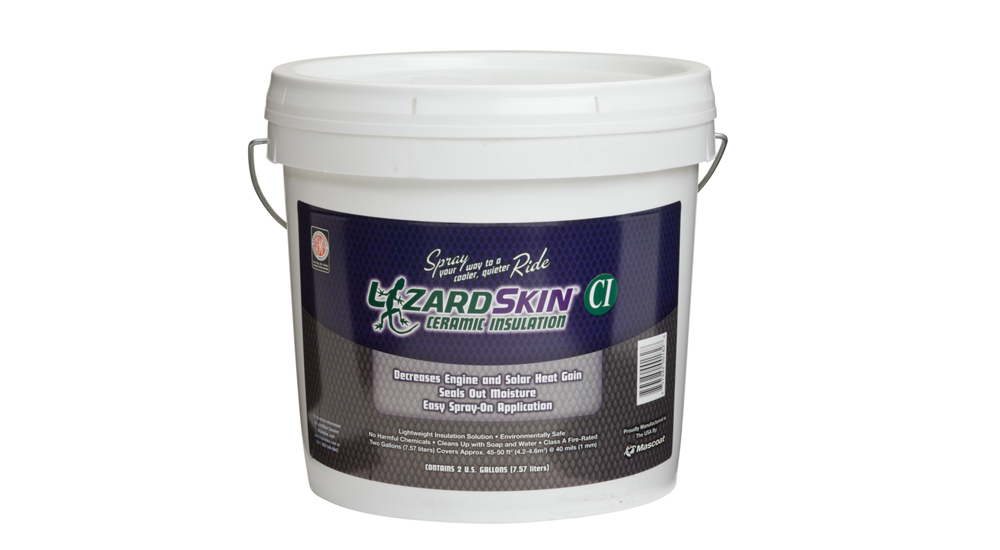 Lizard Skin Ceramic Insulation
Spray on heat control
$185.00
REDUCED STOCK CLEARANCE NOW $185 LizardSkin's Ceramic Thermal Insulation coating is a premium spray-on thermal insulation product idea for reducing heat entering through your floor pan, firewall, doors and roof. LIMITED STOCK ONLY AVAILABLE IN WHITE
LizardSkin Ceramic Insulation is a premium spray-on thermal insulation product for all cars, trucks, hot rods, race cars, vans, campers and industrial equipment —wherever heat is a problem. LizardSkin Ceramic Insulation (CI) is an advanced, water-based composition of a high-grade acrylic binder with ceramic insulation particles to create a thermal barrier. With LizardSkins spray on auto insulation, heat entering the interior is reduced, making for a cooler, more comfortable ride. For maximum auto thermal performance in your ride, encapsulate the entire interior and all appropriate exterior surfaces.
Lizard Skin can be painted out of a large diameter underbody / Schultz or spray gun with a minimum tip diamter of 4mm.
The product is acrylic based and can be cleaned up with water. Once dry the product is hard and reasonably durable.
Colour White
Watch how the product works here
See how to apply it here
Benefits of LizardSkin SC include
Class A fire-rated
Environmentally friendly solution
Provides non-combustible thermal insulation
Eliminates cut and paste waste
Able to withstand radiant temperatures up to 500°F (260°C)
Adheres to most any material
Continuous protective moisture barrier
One-part coating system
Lightweight
No respirator needed; but dust mask/protective eyewear is recommended
Easy spray-on application
Can be easily applied to irregular surfaces and geometries
Offers a protective, seamless membrane
Fast clean up with soap and water
No more excessive mat waste
Since LizardSkin Sound Control not only dampens noise, but also protects surfaces, it will help keep the integrity of your ride intact for years. The coating can withstand temperatures to 149°C (300°F).
One 7.57ltr (2-gallons) container of LizardSkin Sound Control will cover 3.7 - 4.2sq/m at 0.040" (1mm) thickness dry.
(LS_Ceramic)
Download spec sheet here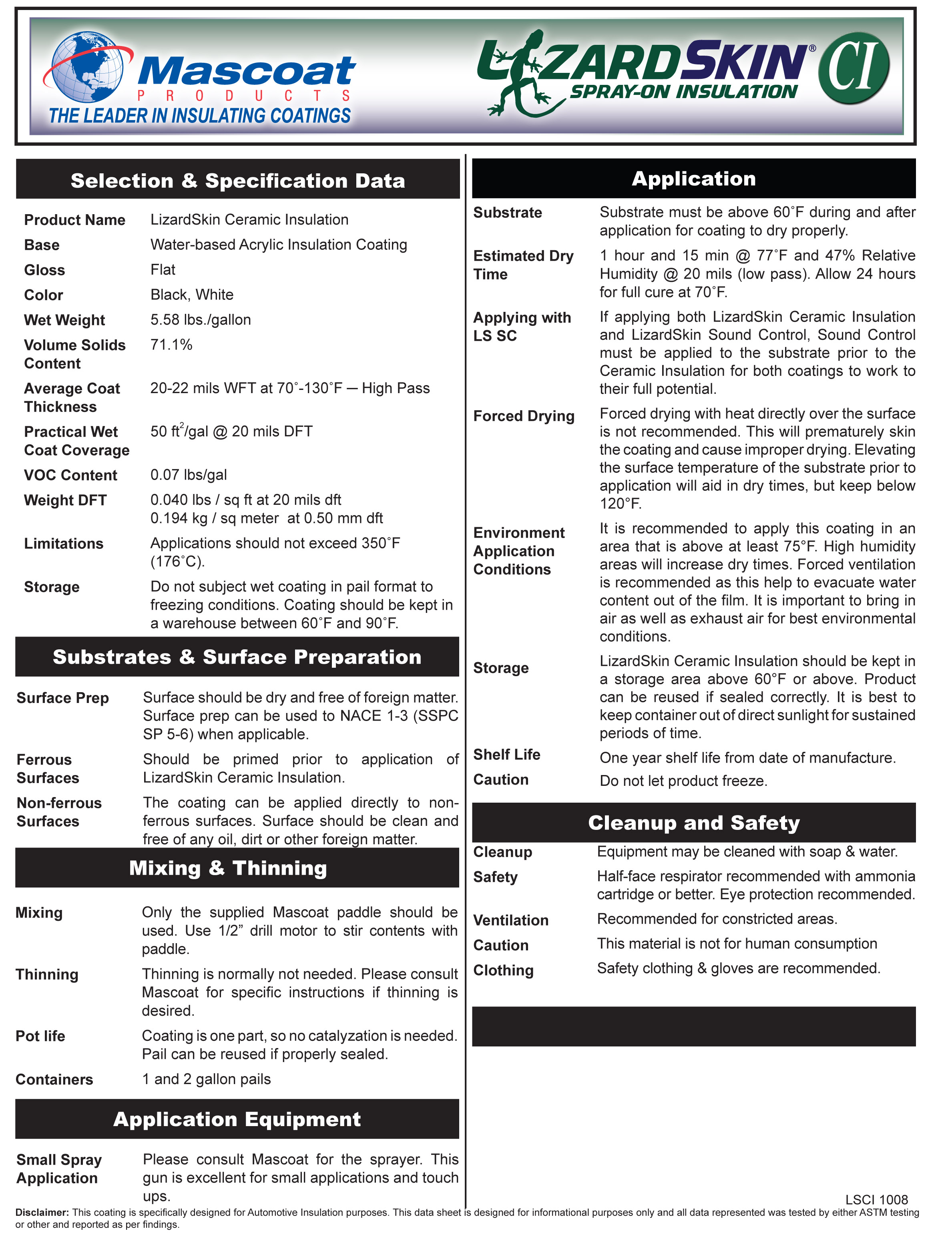 Customer Reviews
---
Lizard Skin Ceramic & Acoustic Paint
By:

David Greenhalgh

on 5 March 2019
I used both Lizard Skin Ceramic & Acoustic Paint on my 1949 Ford Freighter Pickup om both internal and external floors and on inside rear panel and roof, as well as the inside of the doors. The product is easy to apply with Car Builders Spray Gun. It has been 12 months since it was applied and it has held up well whilst I repaired and painted the cab. I would recommend the products. I have applied a rubber based product to the external floor to protect the products from stone chips, this maybe overkill but better safe than worry.
5/3/2019