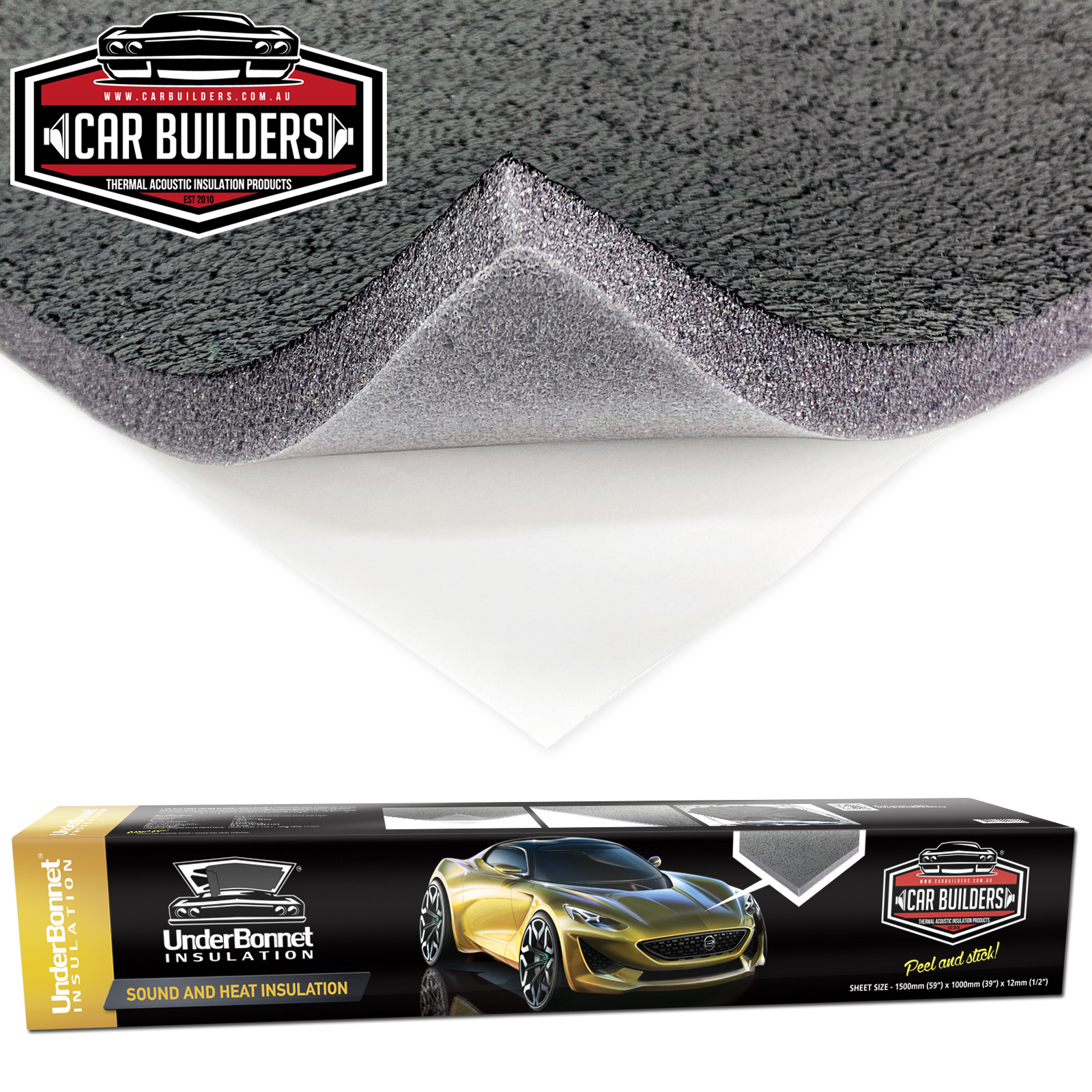 Under Bonnet Insulation
$92.00
Our under bonnet insulation is a peel and stick foam that is universal to conform to a range of bonnet surfaces. The polyurethane coating allows form minimal creasing, unlike traditional scrim material faces. Includes knife and 5 x blades for install!
Car Builders Under Bonnet Insulation is constructed from a open cell acoustic foam, our under bonnet insulation is dark grey in colour with a black protective top layer. The black top layer is a unique flexible polyurethane coating which allows the material to conform effectively on irregular surfaces with minimal creasing. The top layer is also a protective coating sealing the material from liquids, allowing for ease of cleaning
Peel and stick!
Includes: 1 x utility knife with 5 x blades
Flexible in all directions and will not crease easily like traditional woven face material foam.
Shipped in protective packaging, with guaranteed delivery of quality product not creased or damaged
(UBINS)
Sheet size: 1500mm x 1000mm
Thickness: 12mm
Tempreature.resistance: -40 C to +110 C (long term) +135 C (short term)
Flame-retardant: Yes, meets UL94 HF1
Peel Strength: 45 N/cm
Weight: 0.6kg / sheet
Customer Reviews
---
Thanks for the tip!
By:

Tony

on 20 March 2017
I was absolutely amazed at the noise reduction, I reckon it is at least 10 decibels quieter and the job is not finished....... Just a great result so far, really happy with the product its effectiveness, its ease of install and its look. The truck mechanic had a look and he knew of the product, he was amazed at the result and how neat it looks, so you have a convert already, but it sells itself..
20/3/2017
Under bonnet insulation for my 1965 Wolseley 24/80
By:

Trevor & Heather Modistach

on 12 October 2016
First, your delivery was exceptional, 2 days from order to our front door in Sth. Aust. The Installation was a bit daunting as the Wolseley bonnet is one continuous slab of metal with bracing around the edge, raised approx. 10mm with a raised pressing going from almost flat at the rear of the bonnet to deeper at the front to match the grill, with a cross brace across the the bonnet toward the front. To be able to tuck the insulation around the edge under the 10mm gap of the bracing, to give a really neat finish, I cut the insul. approx. 15mm wider than required, and with the 'Olfa' type knife supplied with the kit,I cut through the backing, leaving approx 25mm around the edge where the backing would remain,to allow me to slide it under the bracing once the rest of the insul. was stuck down. I also cut, just through the backing, from front to back, dividing the width of the bonnet by 4 so we could start sticking it down in sections rather than pealing all of the backing at one time. we started from the centre of the bonnet and worked out to both sides. Because of the front cross brace, I decided to join the front section at the back edge of the brace, as there was no-where to tuck the edges under so it had to be cut the exact shape. I am wrapped with the end result. As all that was under the bonnet before was approx. 3mm thick cardboard type 'stuff',this not only looks great, but has to be a huge improvement over the original. The job took just over an hour, and once we worked out how we were going to tackle it, it wasn't daunting at all. We had the bonnet off the car to do it. (photos forwarded by email )
12/10/2016
under bonnet material
By:

campdogs

on 27 November 2015
A very genuine seller who couldnt do enough to help. Highly recommended. Thanks Brendan
27/11/2015