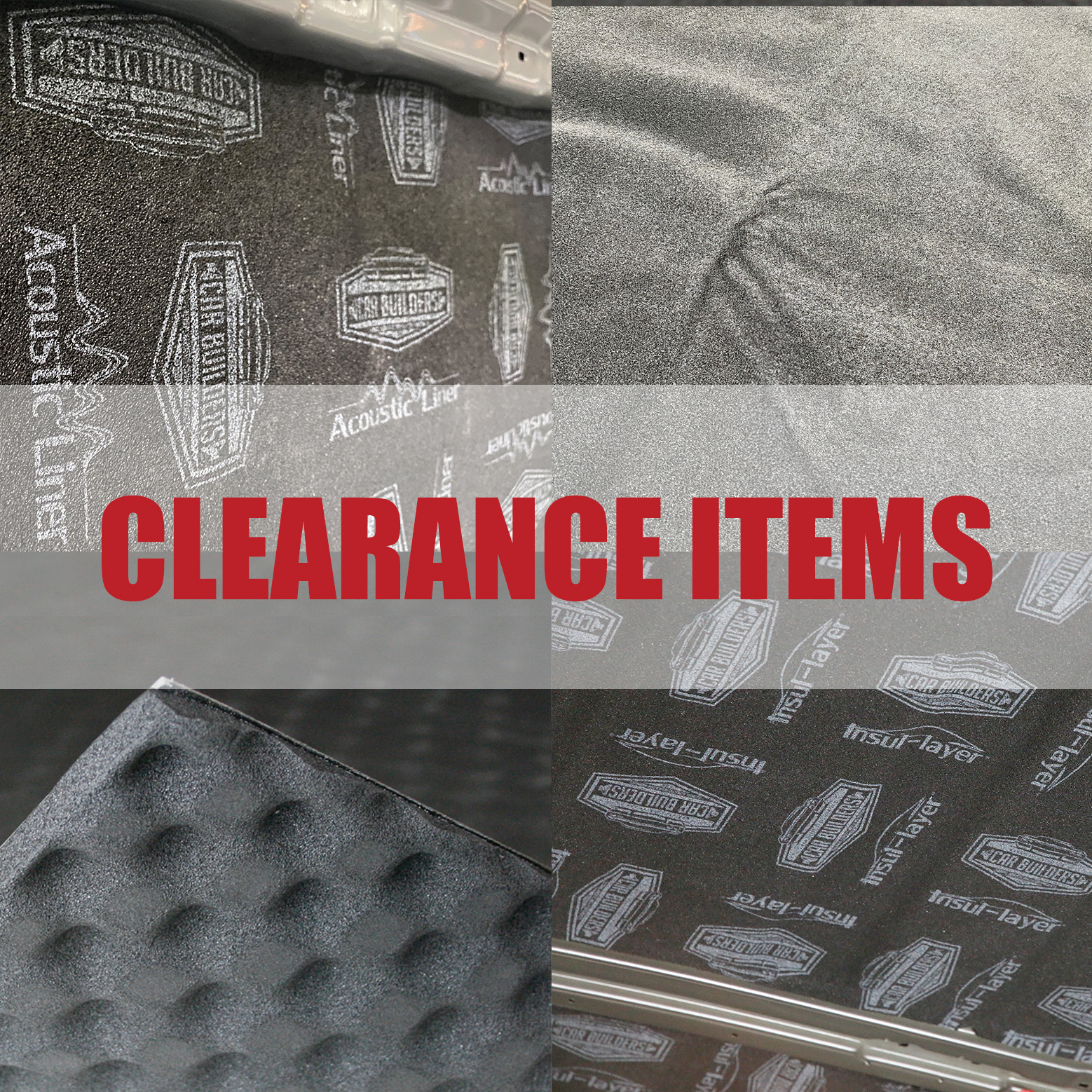 Clearance Items
Short lengths and printing failures
$20.00
NOTE for clearance Carpet look HERE
NOTE for short length Carpet look HERE

These clearance items are still of the same top quality as the original products. They are undersized lengths, each product has a minimum length as seen in the description above, and they are all under a metre.
Acoustic Liner:
Parts of the adhesive may come off with the backing paper, Spray Adhesive advised.
Adhesive is a slow cure, it has low initial tack but a very strong bond once it reaches full cure. You need to apply pressure to the sheet, you can also add heat to speed up the cure. For more information we have a video here

Mass Noise Liner:
Discontinued stock, egg shell style foam 10mm thick with 2mm vinyl face. Product is brand new with no defects.
Insul-Layer 6mm - Two Sheets:
This product is undersize. Normal sheet size is 1400mm x 950mm, in this listing there are two sheets 450mm x 1150mm. The product itself is the same high quality as the standard product.
Insul-Layer 6mm - Low Tack:
Product is a discontinued size 1150mm x 850mm. Ideal for use on horizontal or vertical application, for inverted application Spray Adhesive is advised
Insul-Layer 6mm - Heat Activated:
Two sheets 950mm x 1400mm. High temperature rated, slow curing adhesive allows this product to be repositioned. The glue is heat-activated, for a faster cure, a heat gun can be used. For an immediate applicated, we recommended using spray adhesive. Product is at normal sheet size.
(CLEAR_Parent)
Customer Reviews
---
Be The First To Review This Product!
Help other Car Builders users shop smarter by writing reviews for products you have purchased.