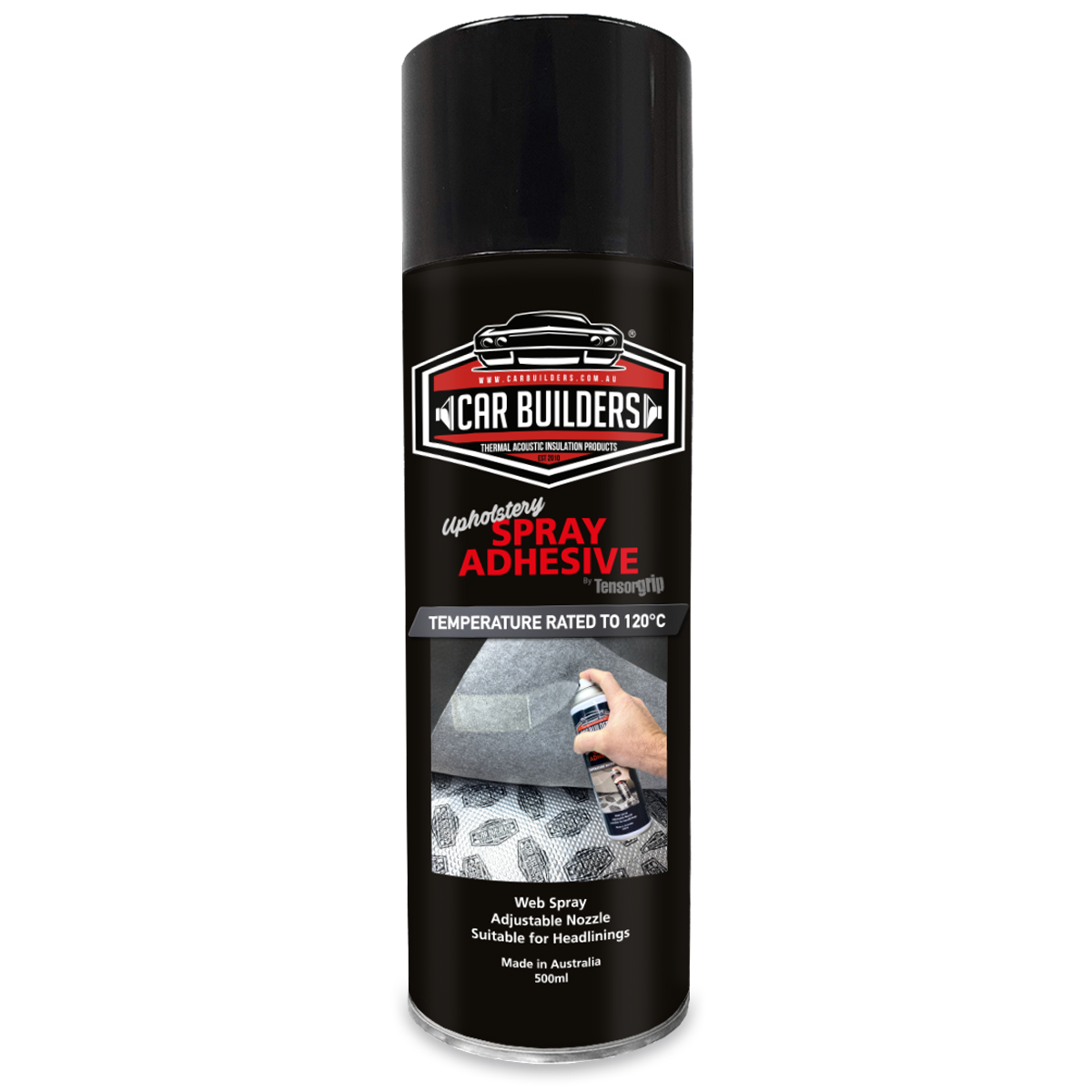 Spray Adhesive
Premium Upholstery Glue
$29.95
Car Builders Premium Spray Adhesive is suitable for all your upholstery projects, from roof linings to carpet. Our Spray Adhesive is manufactured right here in Australia and has been tested and proven at 120°C
Glues aren't what they used to be....... you won't be disappointed with our contact adhesive.
Car Builders Premium Spray Adhesive is suitable for all your upholstery projects, from roof linings to carpet. Our Spray Adhesive is manufactured right here in Australia and has been tested and proven at 120°C. These highly charge cans feature an easy to use adjustable nozzle which spray out in a thick splatter type pattern. Not to be mistake for fine mist contact adhesive this is an Industrial grade glue that will cover large surfaces.
Simply spray both surfaces allow a short amount of time to tack and bond 2 x materials together.
Great for:
Additional strength when using self-adhesive products
Installing finished carpet on floors, wheels arches, roofs and walls.
Permanent bond on plastics. metal, wood, glass, fabric, flexible foam and paper
Coverage
7sq/m per can Note: both adhering surfaces must be coated therefore allow 3.5sq/m coverage per can.
Clean up
Clean overspray with Mineral Turpentine or Eucalyptus
MSDS can be downloaded here
(SA_Parent)
7sq/m coverage per can Note: both adhering surfaces must be coated therefore allow 3.5sq/m coverage per can.
Application should be between 16°C - 27°C.
Spray about 10-20 cm away at a 90 degree angle to the surface, applying a uniform, even coat of adhesive to obtain 80% to 100% coverage of the
surface. If necessary, spray another coat of adhesive in areas that appear to need more adhesive. Spray both surfaces to be bonded, one surface vertically and the other surface horizontally. Allow the adhesive to tack off until no adhesive transfers to the knuckle when touched. Adhere surfaces and press together with adequate pressure. A roller is recommended to apply a uniform pressure to achieve maximum strength. Allow 24 hours for the adhesive to fully cure.
Customer Reviews
---
Great product
Awesome top shelf product. This spray was far superior than other products I have used.
16/6/2021
Brilliant
This spray adhesive is brilliant. It's very easy to use and stays stuck! Since using this product, I now have a can at hand for any application.
7/5/2021
Easy use, works perfectly, simple clean up
By:

Colin Tye

on 30 September 2020
We have covered the exposed metal surfaces in our caravan with carpet which has been applied using this glue. Nozzle can be adjusted for fine and wider spray getting into smaller areas. Glue sticks as expected, and if necessary overspray is easily removed.
30/9/2020
Easy use spray adhesive
By:

Rick fry

on 3 August 2020
this product makes it so easy to secure the four way stretch carpet, very little wait time before applying to an area. Great results
3/8/2020
Spray adhesive
By:

Rayl Edwards

on 20 April 2020
I was impressed how easy it was to spray this on my van and carpet surface. And it has stuck very well. A great product.
20/4/2020