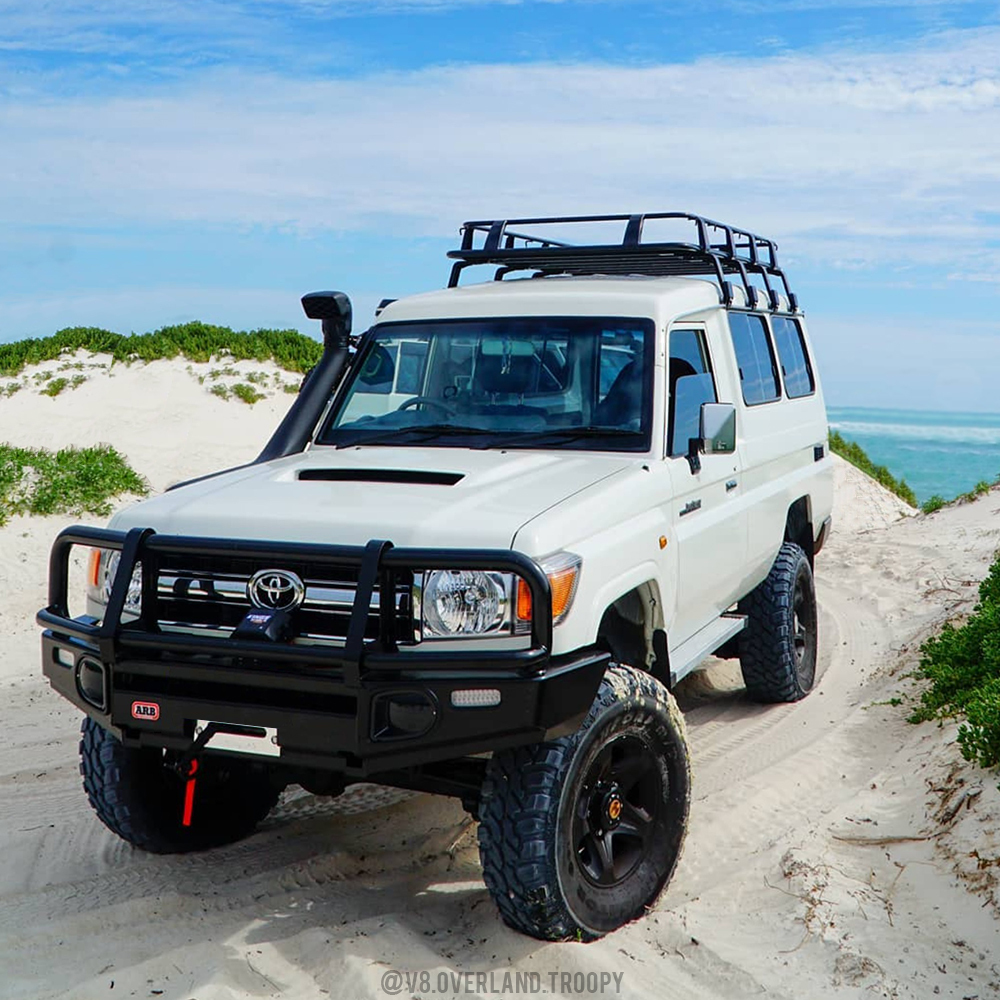 Troopy Floor Pan, 1/4s & Door Skins
Front floor, 1/4 panels, rear arches and door skins
Catering for our Troopy owners we have 4 x options to transform your truck into a comfortable touring vehicle. Scroll below for inclusions in each pack. Save 10% off the Troopy Roof Kit when combined with any other Troopy pack.
$570.00
Car Builders has numerous options for the Landcruiser Troopcarrier to cater for your build and touring needs. Below is a description of each of the drop down options above.
PACK
Please note, we aim to help keep the cost and weight down in each pack by giving you just enough Stage 1 Sound Deadener to achieve a significant improvement. We outline how much to put on each panel in the instructions. If you want to go extra with the coverage (to achieve further, smaller increments in results) we recommend getting an extra box of Stage 1 Sound Deadener.
Packs 1 and 2 will cover the front floor area, doors, 1/4 panels and rear wheel arches

Pack 2 contains our premium carpet underlay, Mass Noise Liner

The roof has two options, Stage 1 Sound Deadener, or Stage 1 Sound Deadener with the additional pre-cut insulation pack.

The Insulation pack for the roof can be finished with Four-Way Stretch Carpet.
Pack 1 - STANDARD PACK
The Troopy Front Floor Pan, 1/4s & Door Skins includes:
(approx 36kg)
4 Boxes (7.2sq/m) of Stage 1 Sound Deadener - Apply to your firewall, front floor pan, under front seats, inner 1/4 panels, rear wheel arches, door skins.
2 Boxes (3.6sq/m) of Water Proof Underlay - Apply to front floor pan and under front seats.
1 x Install kit - Includes 1 x application roller, 1 x utility knife, 1 x roll of foil tape, stubby holder & bottle opener
Pack 2 - PREMIUM PACK
Troopy Premium Floor Pan, 1/4s & Door Skins
(approx 57kg)
4 Boxes (7.2sq/m) of Stage 1 Sound Deadener - Apply to your firewall, front floor pan, under front seats, inner 1/4 panels, rear wheel arches, door skins. This leaves 8 x Sound Deadener sheets for cargo area- see layout in above photos.
2 Sheets (3sq/m) of Mass Noise Liner - Stage 2 underlay sound barrier apply to foot wells, transmission tunnel, under seats.
2 Sheets (3sq/m) of Mass Noise Liner - Stage 2 sound barrier apply to rear cargo area.
1 x Install kit - Includes 1 x application roller, 1 x utility knife, 1 x roll of foil tape, stubby holder & bottle opener.
The factory headliner in the Troopy is a tight fit and will only allow for Stage 1 Sound Deadener to fit underneath it. If you are replacing the factory lining then you are able to add more insulation. We pre-cut our Van Liner to suit the roof, this can be covered with carpet. These pre-cut sheets are available in our Insulation Packs.
The Troopy Roof kit includes:


Roof Pack
(approx 15kg)
2 Boxes (3.6sq/m) of Stage 1 Sound Deadener
- Apply to your roof skin to control resonance, minimum 50% coverage of open skin sheet metal.
1 x Aluminium Foil Tape - Use to seal all sound deadener edges.
1 x Application Roller - To roll on the Stage 1 Sound Deadener (not included if purchased with an above pack that already comes with a roller)
PRE-CUT FLOORPAN
This option is available if you are purchasing 'Pack 2 - Premium' (under dropdown 'PACK'). We have machine cut the Mass Noise Liner (Stage 2 underlay) for Troopy floorpans to suit the Land Cruiser Troopcarrier (2007) 78 Series. This allows you to simply directly drop in the stage 2 underlay and it will save you significant time in having to template the material to fit.
PRE-CUT INSULATION PACK
Pre-cut Insulation Packs are designed to be used in addition to the sound deadening packs (Pack 1- Standard or Pack 2- Premium) to achieve optimal sound and insulation results. This pack uses precut insulation material, Van Liner, in the quarter panels and/or on the roof. This is particularly effective if the vehicle is being used for extended touring. Suits 78 Series.
The Pre-cut insulation pack includes:
Roof (with or without carpet) and Quarter Panels covering areas selected in drop down
Pre-cut Van Liner
- 10mm peel and stick closed cell foam. Create a radiant heat barrier and soft surface to reduce sound energy. Upholstery glue can be applied to this ready to trim with carpet if desired.
Premium Spray Adhesive - High temp spray adhesive used to stick carpet to the Van Liner on the roof. Simply spray on both the Van Liner, and also the back of the Four-Way Stretch Carpet, wait 10-15 seconds and join together.
Four-Way Stretch Carpet
- Available in four colours, this is a high-quality, cut pile carpet.
It is flexible and pliable to contour to the most complex surfaces. As a true automotive grade, this universal carpet is UV stable
Why is carpet an option in these packs? If the insulation material (Van Liner) is to be use on the roof, where heat radiation is an issue, the factory headliner does not fit back on. Therefore, we have solved this issue by using our 4 Way Stretch Carpet (available in 4 colours) glued straight to the Van Liner surface to complete an OEM look. These packs include the Car Builders Premium Spray Adhesive.
This pack has the following options:
insulation in both the quarter panels and the roof (with or without 4 Way Stretch Carpet)
insulation just quarter panels (no carpet required)
insulation just the roof (with or without 4 Way Stretch Carpet)
If you have any further questions with the packs, please don't hesitate to call us 03 8777 0960
(VEH_TROOPY_KIT)
Customer Reviews
---
Troopy pack 2 with pre cut mass liner and insulati
By:

Bill collis

on 11 October 2023
So I just got done installing into a brand new 2023 troopy, the results are pretty astounding tbh from a tin can to everything has a thud but not only that the outside and engine noise reduction is great, it took me 3 weekends to complete the task 1 day per weekend so 3 days all up, pulling the roof apart was a pain in the ass those cross brasses are super tricky, definitely watch the car builders video for tips on that the pre cut stuff fits great too super handy and you can really tell it cuts down on install time, I cut my hands up a fair bit on the metal of the troop and the sound deadener the troop has a lot of hard to reach places, would I get this product again yes absolutely, would I install it my self again yes if I was saving money and second time around I know what I'm doing more, if money isn't an issue, pay someone todo it. Also a tip get some touch up paint, I managed to scratch a couple spots,
11/10/2023
Be aware: Waterproof underlay vs mass noise liner
By:

Ken Murton

on 28 February 2023
I have a new troopy and bought a Stage 1 pack. I am going to fit out the rear with a wooden floor, cabinetry and a vinyl walkway. I also have a 3mm water proof underlay under the wooden floor. I butted the Stage 1 sheets together and ended up a half box short so decided to buy a further two boxes of Stage 1 and continue into the rear of the vehicle. This is not necessary, however every little bit helps. I then fitted the waterproof underlay (as supplied with the standard pack) to the front of the vehicle back to the rear of the seats and reinstalled all seats, trim etc. I had a query as to whether I still needed the factory vinyl in the rear as I was fitting it out as mentioned above, so rang Car Builders for their advice. I was then told that I should not have used the waterproof under lay in the vehicle, but the mass noise liner instead, if I planned on water crossings (Duh, this is a troopy) as the stuck down underlay will take longer to dry as it cannot be removed. I noted to Car Builders that this fact is not indicated anywhere in their pages regarding troopy packs. Apparently this is just common sense. (Dumb old me) If you are like me and follow suppliers advice, be aware of this omission from their web site. Hopefully their product will be better than their web information.
28/2/2023
Everything is what you read about
By:

Bill Gurney

on 23 November 2022
Still a work in progress but so far, the videos, the phone calls, the product and especially the delivery turnaround has been awesome. I'm really happy with the progress so far, it's making a big difference and when you get an issue, like how to get bolts through the 4 way stretch carpet, the answers are only one phone call away. Soldering iron was the easy fix for that little issue. Can't recommend these guys enough, awesome bit of kit and even better service.
23/11/2022
A breeze
By:

Drewsky

on 19 January 2022
Thx for the support and great product. Troopy is a whisper!
19/1/2022
Amazing result
By:

Alain

on 15 December 2020
Thanks for your product. With the video it has been easy to install however it still takes time. The result on the road and unsealed road is amazing. Well done guys.
15/12/2020
Troopie sound deadening
By:

Andrew Fox

on 7 June 2020
Searched the internet for sound deadening material for my 2006 Troopie. Read all the reviews and the only product that kept getting rave reviews was Car Builders Troopie kits. It was a no brainer to purchase the kit. Enough product to complete the entire floor and fire wall. Took a bit of work to get in as the Troopie floor isn't exactly flat but over 1 hours it was done. Great quality product that adhears very well. I went with the kit that has the 10mm water proofing. This did make it interesting getting the carpet back into place, but got it back in. I would recommend and Troopie owners to apply this product. The sound deadening and heat barrier properties of these products is second to none. Cabin comfort has been improved.
7/6/2020
Best comfort mod for a 70
By:

Oscar Fricke

on 3 February 2020
Finished installing all of the high quality Car Builders sound deadening and am so impressed with the result. Have used their products on my previous 40 series Ute but the difference it makes in a Troopy is awesome and install was quick and easy. Makes the car so much more comfortable and quiet on long drives!
3/2/2020
Roof kit installation
By:

Ross Cameron

on 1 July 2019
Great product with great result. Just a thought on the installation of the central layer of sound deadener is to leave a small section out where each cross member is as the extra thickness together with the sound matt make it very difficult to get the cross members back in and would certainly use this product again.
1/7/2019
Get it
By:

Benjamin

on 18 February 2019
Repeat customer. Prompt with enquirers, product is top quality. The troopy no longer sound like a tin can. Will get it for all my 4wds from now on.
18/2/2019
Great product
Repeat customer, the product is great and it does what it is meant to do. When you close the doors on the Troopy it now sounds and feels solid. Sound wise there is a noticeable difference. For those with a roof rack make sure you fit the roof kit, aerodynamics is not the Troopy's strong point.
14/7/2018
Troopy project
By:

Chris bassford

on 26 February 2018
Products were easy to use went in really well had enough product with a bit left over mainly rear matting . I cant comment about the acoustics yet as I am going to checker plate door and side cards next week end the job took two days for the premium pack
26/2/2018