Due to the impact of COVID-19 (Corona Virus), parts of our supply chain have been interrupted. We are currently sending our Stage 1 Sound Deadener in plain brown boxes rather than our graphic boxes. Please be assured that you're still getting the same Car Builders quality product.
Car Builders Sound Deadener is a vibration (sound) dampening mat. The material consists of an anti-drum noise absorption layer, combined with an aluminium top layer forming a heat and acoustic barrier. Its pressure sensitive self-adhesive back conforms and fuses easily to sheet metal and other hard substrates. It has excellent performance for acoustic dampening under varying temperature ranges and is highly resistant to aging.
Butyl Mat is today's alternative to traditional bitumen body dampening. Our Sound Deadener is best suited to restorers, repairers, vehicle builders and audio enthusiasts, who demand acoustic and heat insulation as bench marked by leading automotive manufacturers.
Installing Sound Deadener
See more clips on installing on our YouTube channel
(SD_PARENT)
Sound Deadener comes packaged in 1.8sq/m (20sq/ft) boxes, see below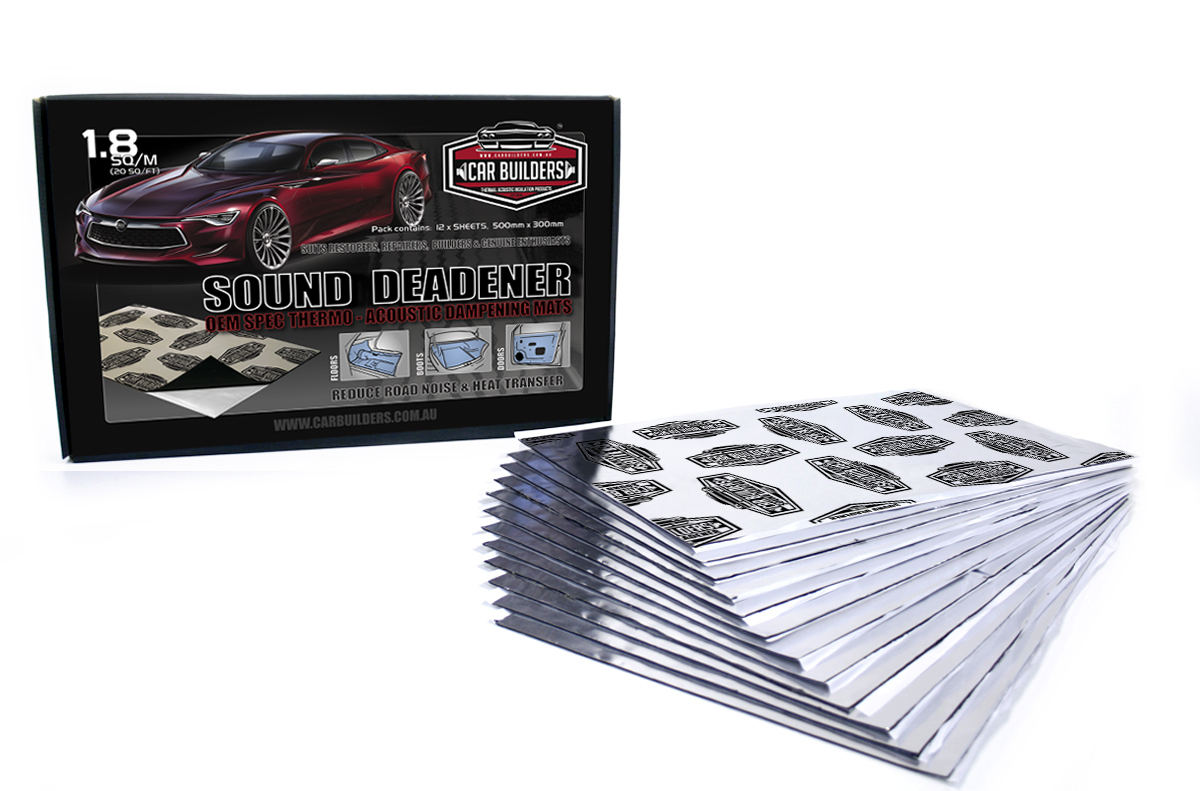 12 x sheets

Sheet sizes are:

300mm x 500mm
Appearance:
Black Butyl based core with 4 mil silvery aluminium reinforced layer backed with white wax paper release liner.

Thickness:
2.0 - 2.2mm
Weight:
3.2kg/p sm

Acoustic Loss Factor:
(ASTM method E756 @ 200Hz, Temperature range -10°C to +60°C)
0.08 to 0.41

Recommended Install Temperature:
-10°C to +60°C

Resistance Temperature Range:
-40°C to +149°C

Chemical Resistance:
Resistant to water and mineral oils

Adhesive Peel Strength:
65N/cm on cold steel

Storage:
Product should be stored at room temperature for best application and should be stored horizontally in its package.
Customer Reviews
---
Awesome
By:

Ben TREAGUS

on 15 March 2020
Easy to install, massive difference
15/3/2020
Fantastic product
By:

Andy hartmann

on 9 February 2020
This product is of very high quality and very easy to install, highly recommend it.
9/2/2020
"sounds" good
By:

Steve Fasano

on 24 January 2020
Great product
24/1/2020
Top Quality products, Happy as hell
By:

Timothy kivi

on 27 November 2019
Got my delivery super fast and hassle free. The body deadener is awesome, love it so much I'm gonna leave it all exposed. Easy to install and fix if you make a mistake. Anyone can do it if you have the roller. Used it in my xf Skid car and came out beautifully. Thank you soooo much guys for the amazing products keep up the great work
27/11/2019
Great Value!
By:

Kurtis

on 5 November 2019
Insane shipping time, got here in Adelaide about as fast as it gets. Quality is as good as Dynamat and packaged better, my Dynamat was a bit crushed and folded but this come as perfect flat sheets in the box, the butyl feels the same sticky as dynamat for legit half the price!
5/11/2019
The difference is incredible
By:

Rhonda

on 5 September 2019
I bought a stripped-out '96 Hiace Commuter van to convert to a camper. I love the van but the noise inside was like an assault, almost unbearable. I bought two packs of the noise deadener and used them on the wheel hubs, the floor and sides, wherever the metal sounded tinny or echo-ey when knocked, as I didn't have enough to do the whole van. The difference was quite remarkable, and the van is now a pleasant drive. I consider the product worth every penny.
5/9/2019
Awesome
By:

Neil

on 28 August 2019
Great product easy to use, and it works with great effect.
28/8/2019
Great product
By:

Matthew

on 28 August 2019
Was amazed by the quality and how much cheaper then the competitors it was. Will buy again.
28/8/2019
Sound Deadener Kit - Great Product ... Easy Instal
By:

Peter Ky

on 14 July 2019
Product was very pliable which made the installation ... relatively easy. The sound difference to my Toyota Hiace Commuter, which I use for my passenger shuttle business, was "Night & Day". After the install, the level of noise dropped significantly.
14/7/2019
Tranquility mats
By:

Brendon

on 17 June 2019
Purchased these to sound deaden my Hiace camper conversion. Installed them on the flat roof panels, wall panels, wheel wells and doors. The difference is insane! Two boxes (3.6 sq m) allowed me to cover about 60% of all the panels and 100% of the rear wheel wells in a 2006 LWB. You don't need full coverage to get great results - covering about 50 to 70% of any panel is enough to take the ring out of it. Can't recommend these enough for anyone looking to improve the quality of their ride while driving and while parked/sleeping.
17/6/2019
Great value for money
By:

Alistair

on 14 June 2019
I have deadened many cars but first time using Carbuilders for me. Great performance and for less than half the cost of some other brands. I'm impressed and will use CB from now on.
14/6/2019
Great products and even better service
By:

Richard Lane

on 24 April 2019
I recently used Sound Deadener stage 1, Insu -layer 3mm and Mass Noise Liner to reduce cabin noise in my son's Mitsubishi Challenger PB series. From start to finish I found the Car Builders web site and videos excellent for prompting me to have a go at the DIY job. The comprehensive videos giving first hand experience and knowledge by Brendan are some of the best instructional videos on any DIY product that I have seen. Brendan's instructional videos, and his advice re proper preparation is certainly the key to a good result and a little extra time taken to get the job ready for the Stage 1 Sound Deadener certainly paid dividends.
24/4/2019
Easy to use and effective
By:

Hannes

on 6 August 2018
I used Stage 1 Sound Deadener for my van. Even as a first-timer, the product was very easy to apply to roof, walls and floor using the application roller.
6/8/2018
Stage 1 sound deadener.
By:

Jim Dow

on 2 January 2018
Easy to use, just peel and stick. Some cutting around irregularly shaped areas, but it was not difficult. It is fairly heavy, and I estimate probably close to 100 kg increase in weight for a Mercedes Sprinter. The difference is beyond comparison, from a rattly booming van, to a quiet ride in which I can hear the stereo without turning it up to kill. Brendan from CarBuilders was most helpful, and I would recommend dealing with him.
2/1/2018
Aluminium acoustic tape
By:

Nicholas Woods

on 4 November 2016
Great product and arrived quickly, very happy
4/11/2016