Car Builders Stage 1 Sound Deadener is a vibration (sound) dampening mat. It consists of a butyl rubber noise absorption layer combined with an aluminium top layer.
Each box has 12 sheets, each sheet is 300x500mm and 2mm-2.2mm thick.
Car Builders butyl based Sound Deadener does not require heating, does not smell and will not go brittle over time, which are all qualities of old style tar or bitumen sound deadening materials.
Car Builders Sound Deadener has pressure sensitive butyl rubber, which is inherently sticky eliminating the risk of an adhesive layer failing.
Features/Advantages
Easy installation - just peel off the release liner and roll it on

100% waterproof - does not rot or deteriorate

Cuts with scissors or a knife

Reduces heat transfer

Conforms and fuses easily to all types of sheet metal

No odour
Applications
Under carpets

Roof skins

Inside cavities

1/4 panels

Doors

Boots/trunks

Firewalls



Colours (product is exactly the same - only the print on the aluminium changes)
Silver - Silver with black logo
Black - Black with silver logo
OEM Black - Plain black no logo
Sound Deadening FAQ
What does sound

deadener

do?
Sound Deadener absorbs vibrations and adds mass to panels. This process will make your car or van quieter as it will reduce the resonance of the panels, removing that tinny sound thin sheet metal panels have. This will reduce echo and make the inside the vehicle a much more comfortable place.
What Sound Deadener is best?
Sound deadener is generally a misunderstood material. Normally the first stage of treating noise is referred to as 'sound deadener'. This stage only really treats vibration in panels. It was often a bitumen-based product but more commonly consists of a butyl rubber with an aluminium top layer. Cheaper sound dampening sheets consist of a lower grade butyl, which is not as durable or resistant as those used by leading brands. Butyl sheets by themselves however, will not result in dampening droning or external noise that you may be more interested in treating. This will be treated more successfully with mass loaded vinyls. If you are aware of the type of sounds that are annoying, you will be able to treat them more successfully with targeted products. Please feel free to contact us to discuss this further for your vehicle (03 8777 0960).
What is sound dampening in vehicles?
This term is often confusing. In physics it means 'restraining of vibratory motion, such as mechanical oscillations, noise, and alternating electric currents, by dissipation of energy. In a general sense 'dampen' means to 'make less strong or intense'. There are 5 common elements to reducing sound; absorption, damping, decoupling, distance, and adding mass. Automotive structures limit the thickness of materials that can be used, but combinations of dampers, barriers, and absorbers are used to reduce sound. Surface damping materials such as butyl-based sound deadening sheets are very effective at reducing structure-borne noise.
Is Sound Deadening worth it?
Sound deadening is definitely worth it if you are in your vehicle a lot. It results in a significant reduction in decibels allowing you to hear passengers better, improve sound system quality and reduce the strain of noise pollution on the body.
Are bigger sound deadening sheets better?
As installers, we find that 500mm x 300mm are a good size to deal with when installing. The reality is that you will rarely have panels that have open, single sheet metal panels larger than that. Rather, more often, you will need to cut down sheets. We have had rolls in stock before, however it just results in more effort in cutting.
What can I use for sound deadening in a car

?
Our Stage 1 Sound Deadener is the first layer you need to apply when sound deadening a car. We then have carpet underlays and other foam insulation that you can apply over the top to block sound and help insulate cold and heat.
Is your Sound Deadener bitumen?
No, the adhesive product is butyl based. This has an advantage over the bitumen, which dries out, cracks and lifts allowing water to get underneath it and cause rust. The butyl is a waterproof material ensuring that water cannot get between the Sound Deadener and the panel. Bitumen also has a strong odour, which the Sound Deadener does not.
Is there a difference in Sound Deadener colour variations?
No, the logo Sound Deadener (Silver or Black) and OEM versions are the same product simply with a different colour/print on the aluminium face. Some customers are after the OEM finish in areas where the Sound Deadener will be exposed and they would prefer not to have logoing.
Do I need to wipe the panel before applying Sound Deadener or underlay?  
Yes, for a successful bond between the product and the panel; clean the panel with a white based spirit such as wax and grease remover or methylated spirits. Find our cleaner of choice here: https://www.carbuilders.com.au/wax-grease-remover-aerosol  
Does sound deadening need 100% coverage? 
No, it is unnecessary to apply deadener to over-lapped metal sections, top hat, chassis sections etc as these areas do not resonate. Moderate amounts of deadener make a significant difference. Once the middle of a panel has been covered, the additional deadener covering the panel has diminishing results. To engineer a car, it takes some skill and technical analysis to pinpoint key areas that need sound deadening, auto manufacturers do this and save money by only covering key areas. In reality most people will cover everything as they do not mind spending a bit more to ensure they have achieved the desired results. Keep in mind that this is one stage in controlling sound in your vehicle and stage 2 is just as crucial.  
Do I need to heat Sound Deadener when laying sheets?
No, it does not need a heat gun to be applied. The adhesive backing is butyl based not bitumen.
Should I lay Sound Deadening sheets in some sort of order?
If you are doing the whole interior, we recommend doing the roof first and then any vertical panels and wheel arches. Finish laying the floor pan last so that you are not standing all over the butyl you have laid on the floor.
Will this Stage 1 Sound Deadener stop all noise?
Keep in mind that this is one stage in controlling sound and targets noise that is derived from panel resonance.  Stage 2 products target droning and other external noises.
See more clips on installing on our YouTube channel
(SD_PARENT)
Sound Deadener comes packaged in 1.8sq/m (20sq/ft) boxes, see below
- 12 sheets per box
- 2-2.2mm thick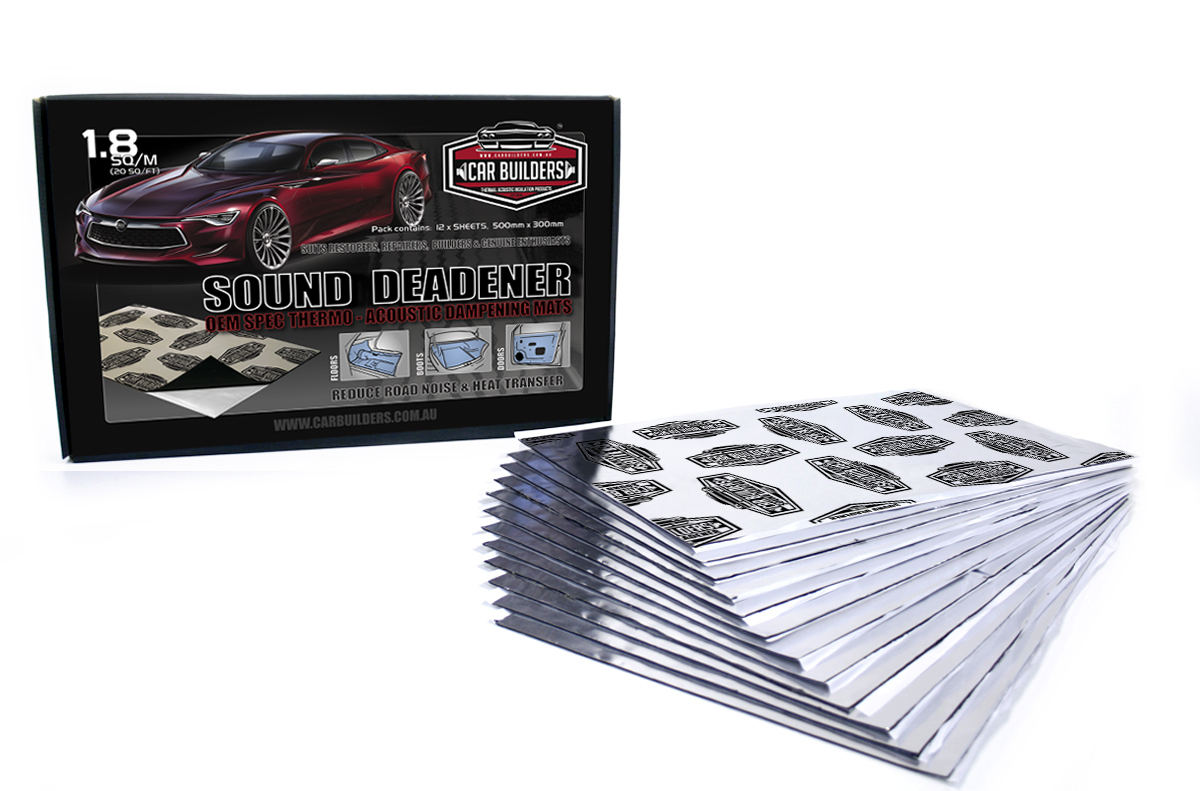 Sheet sizes is:

300mm x 500mm

All our colour options are the exact same sound deadener - same price, same size, same butyl rubber. It is only the colours that is printed on the top that changes.

Silver - Silver with black logo
Black - Black with silver logo
OEM Silver - Plain silver no logo
OEM Black - Plain black no logo
Appearance:
Black Butyl based core with silvery aluminium reinforced layer backed with white wax paper release liner.

Thickness:
2.0 - 2.2mm
Weight:
3.2kg/p sm

Acoustic Loss Factor:
(ASTM method E756 @ 200Hz, Temperature range -10°C to +60°C)
0.08 to 0.41

Recommended Install Temperature:
-10°C to +60°C

Resistance Temperature Range:
-40°C to +149°C

Chemical Resistance:
Resistant to water and mineral oils

Adhesive Peel Strength:
65N/cm on cold steel

Storage:
Product should be stored at room temperature for best application and should be stored horizontally in its package.
Customer Reviews
---
Sound Deadener Stage 1
By:

Peter

on 29 June 2022
Purchased product after using online chat. Product arrived quickly. Easy to use. Much better than previous products I have used.
29/6/2022
Stage 1 sound deadening
By:

Jarrod Daughtrey

on 21 May 2022
Easy installation & great sound deadened result
21/5/2022
Easy to install, instant impact!
By:

Massimo Caruso

on 16 May 2022
This was maybe the 3rd or 4th box I had purchased for the floor of my 80 Series Landcruiser to replace the factory tar material and reduce the drone of a loud exhaust and tires over a long journey. I do want to upgrade my speakers aswell over time and believe this will help produce better sound quality. The noise difference was so obvious as I was driving a rattling gutted 4WD for a couple of days during the project, but once the product was in even a carpet-less, majority seat-less cruiser wasn't overly loud! Hard to rate it anything other than 5 stars as it does exactly what it claims.
16/5/2022
Sound proofing black edition
By:

Bailey

on 12 May 2022
Awsome product works incredibly well
12/5/2022
Sound deadening
By:

Matt

on 26 April 2022
I bought sound deadening and Acoustic foam and it completely changed the road driving experience
26/4/2022
Great product
By:

Colin Smith

on 28 March 2022
I purchased the Sound Deadener for my XP Falcon Coupe that I have been restoring. It is such a superior product to the old days as it's easy to work with as long as you have the application roller and does a great job. I am just about to order Stage 2 and then the carpet can go down.
28/3/2022
Sound Deadener
By:

Stephen Edwards

on 3 February 2022
Does what it states, found it went on easy and was easy to work with, surprised how much noise it blocks out and the heat. have used another brand before that is well known and i think this is better, fast delivery as well.....
3/2/2022
Largely under-rated!
By:

Ian Drent

on 31 January 2022
I love this stuff! I used the silver in my last ute and currently using the black in my current ute (2005 Mazda Bravo 4wd turbo diesel). Have lined the inner door skins as it makes a makes a massive improvement to the sound quality of my sound system and blocks out some exterior noise. I have added it under bonnet to help reduce the noise of the diesel engine also. I will be ordering the Premium underbonnet insulation soon to finish that process. I'll be doing the cabin floor, roof and rear firewall as well.
31/1/2022
Stage 1 Sound Deadener
By:

Vic Grant

on 24 January 2022
We purchased this for installation to the underside of colorbond roof sheeting during the construction of a residential home studio/cinema project. Works really well. Easy to 2use. Thanks Vic
24/1/2022
Sound Deadening Stage 1
By:

Adrian Jones

on 8 January 2022
This gear is so good and the quality of the product is perfect. It is supple and easy to install with minimum tools. A great product to cut down noise and heat when installing in trucks/ cars a like.
8/1/2022
Sound deadner
By:

Brandon

on 6 January 2022
Great product works well
6/1/2022
Great service
By:

Matthew Newton

on 1 December 2021
Yet to install, but the quality looks great compared to others I've seen. Install kit is solid, customer service is professional and friendly, delivery prompt.
1/12/2021
So Easy!
By:

Carmen

on 14 November 2021
Having no experience or idea of what I was doing, it was so easy to use. The roller made applying the deadener sheets super easy. And it has without a doubt worked a treat in reducing the vibrations and sounds throughout my vanbuild. Thanks carbuilders!
14/11/2021
Awesome products
By:

Mindy

on 2 November 2021
We're renovating our 1963 Bedford bus and I've used all car builders stuff for the front cab. I've used the sound deadener, the acoustic insulation on top, and the automotive carpet on top of that. Our engine is in the front cab between our seats so it was important for me to do my research and get the best stuff. And I'm so glad I used the car builders. It's been so easy to install and so easy to work with around all the curves and shapes of the bus. And I can tell it's really high quality stuff. They're super friendly and helpful on the phone. Couldn't recommend them or their products highly enough. I recommend getting the install kit too
2/11/2021
Easy Application and quick shipping
By:

Tom

on 25 September 2021
Ordered stage 1 sound deadening for my van. Was so easy to install with the peel and stick method. Also recommend the installation kit, made life even easier.
25/9/2021