Car Builders Sound Deadener is a vibration (sound) dampening mat. The material consists of an anti-drum noise absorption layer, combined with an aluminium top layer forming a heat and acoustic barrier. Its pressure sensitive self-adhesive back conforms and fuses easily to sheet metal and other hard substrates. It has excellent performance for acoustic dampening under varying temperature ranges and is highly resistant to aging.
Butyl Mat is today's alternative to traditional bitumen body dampening. Our Sound Deadener is best suited to restorers, repairers, vehicle builders and audio enthusiasts, who demand acoustic and heat insulation as bench marked by leading automotive manufacturers.
Installing Sound Deadener
See more clips on installing on our YouTube channel
(SD_PARENT)
Sound Deadener comes packaged in 1.8sq/m (20sq/ft) boxes, see below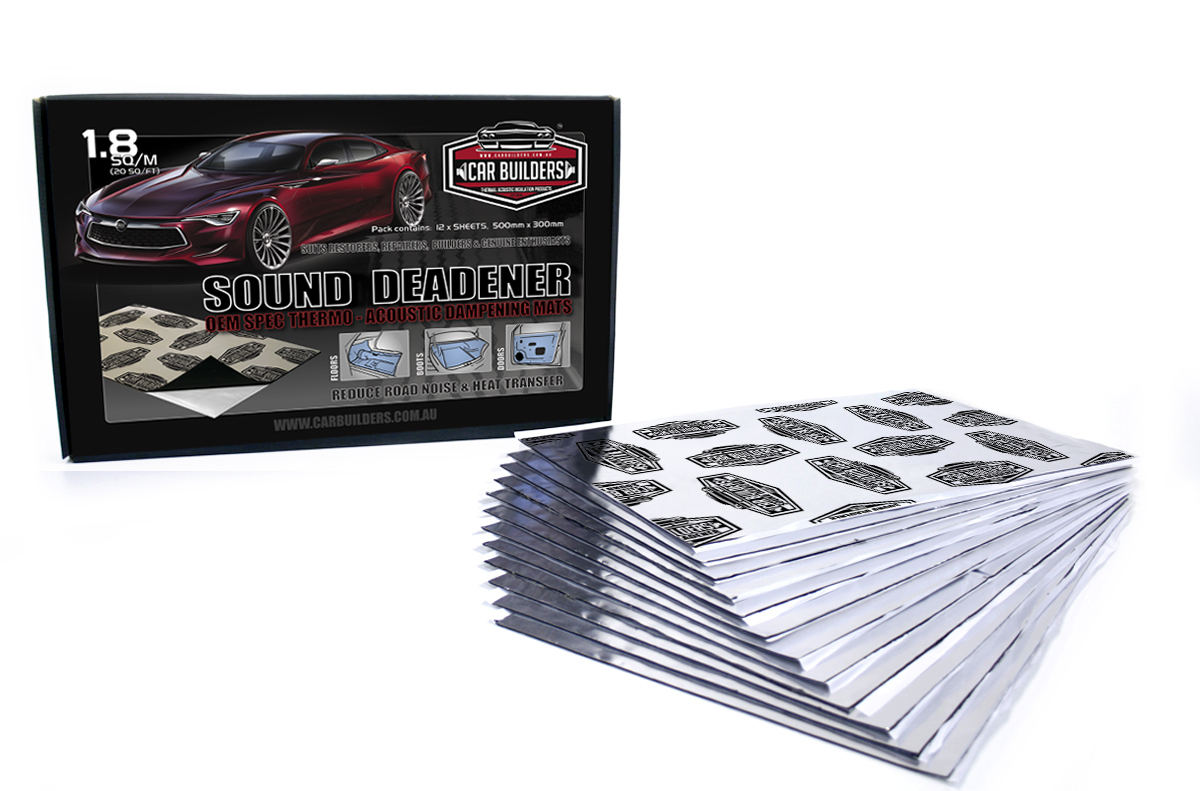 12 x sheets

Sheet sizes are:

300mm x 500mm
Appearance:
Black Butyl based core with 4 mil silvery aluminium reinforced layer backed with white wax paper release liner.

Thickness:
2.0 - 2.2mm
Weight:
3.2kg/p sm

Acoustic Loss Factor:
(ASTM method E756 @ 200Hz, Temperature range -10°C to +60°C)
0.08 to 0.41

Recommended Install Temperature:
-10°C to +60°C

Resistance Temperature Range:
-40°C to +149°C

Chemical Resistance:
Resistant to water and mineral oils

Adhesive Peel Strength:
65N/cm on cold steel

Storage:
Product should be stored at room temperature for best application and should be stored horizontally in its package.
Customer Reviews
---
Good stuff
By:

Geoff

on 26 July 2020
Good product, easy to install
26/7/2020
The proof is in the pudding
By:

Nicholas

on 20 July 2020
I have purchased and installed the sound deadener using the install kit to my Landy Defender. The difference is immense, I can finally hear whats playing on the radio. Cannot speak highly enough of the product
20/7/2020
Stage one sound deadener
By:

MARK NOGA

on 8 July 2020
Very happy with this product , made massive difference to cabin noise in my Troopy ,can not wait to finish it of with blanket . installation was piece of cake thanks to step by step videos . Thank you for great product and support
8/7/2020
A+ Product
By:

Brian

on 30 June 2020
Easy to shape and apply to flat and curved surfaces. Did the side walls and wheel arches on my van. That tinny sound has gone.
30/6/2020
Sound deadener stage 1
Package arrive quickly, product easy to apply, good value
23/6/2020
Quality products A+
By:

Sam Crawford

on 8 June 2020
Always a pleasure dealing with carbuilders.com.au Top quality gear and assistance that really makes the difference.
8/6/2020
Sound deadener
By:

Peter Giles

on 18 May 2020
Awesome product super easy to use
18/5/2020
Stage 1 kit! Great product and speedy delivery
I bought the stage 1 kit for a 78' Mini and it's great to work with. Does what was advertised and the online videos are handy when it comes to installation. I'd recommend this product to anyone doing an interior restoration who is wanting soundproofing and an extra layer of surface protection. Cheers CarBuilders, will be purchasing from you again.
8/5/2020
Amazing product!!
By:

Callum Jones

on 27 April 2020
Highly rate car builders stage1 sound deadener! Was reccomended to use car builders products over the cheap stuff you can find on ebay - so glad I listened as these products are really good quality and can not fault. Thankyou car builders!!
27/4/2020
Sound deadener
By:

LUKE SMITH

on 26 April 2020
Amazing product makes loads of difference. Great product and great people to deal with
26/4/2020
Good stuff
Good quality product and delivered very fast. Has made a huge improvement to my van..... went from sounding like a tin can to a luxury car
16/4/2020
Awesome
By:

Ben TREAGUS

on 15 March 2020
Easy to install, massive difference
15/3/2020
Fantastic product
By:

Andy hartmann

on 9 February 2020
This product is of very high quality and very easy to install, highly recommend it.
9/2/2020
"sounds" good
By:

Steve Fasano

on 24 January 2020
Great product
24/1/2020
Top Quality products, Happy as hell
By:

Timothy kivi

on 27 November 2019
Got my delivery super fast and hassle free. The body deadener is awesome, love it so much I'm gonna leave it all exposed. Easy to install and fix if you make a mistake. Anyone can do it if you have the roller. Used it in my xf Skid car and came out beautifully. Thank you soooo much guys for the amazing products keep up the great work
27/11/2019