Car Builders Stage 1 Sound Deadener is a vibration (sound) dampening mat. It consists of a butyl rubber noise absorption layer combined with an aluminium top layer.
Each box has 12 sheets, each sheet is 300x500mm and 2-2.2mm thick.
Our butyl based Sound Deadener does not require heating, does not smell, will not go brittle over time - which are all qualities of old style tar or bitumen sound deadening materials.
Our Sound Deadener does not run the risk of coming unstuck as there is no adhesive layer to fail - our pressure sensitve butyl rubber is sticky by itself.
Features/Advantages
Easy installation - just peel off the release liner and roll it on

100% waterproof - does not rot or deteriorate

Cuts with scissors or a knife

Reduces heat transfer

Conforms and fuses easily to all types of sheet metal
Applications
Under carpets

Roof skins

Inside cavities

1/4 panels

Doors

Boots/trunks

Firewalls



Colours (product is exactly the same - only the print on the top changes)
Silver - Silver with black logo
Black - Black with silver logo
OEM Silver - Plain silver no logo
OEM Black - Plain black no logo
See more clips on installing on our YouTube channel
(SD_PARENT)
Sound Deadener comes packaged in 1.8sq/m (20sq/ft) boxes, see below
- 12 sheets per box
- 2-2.2mm thick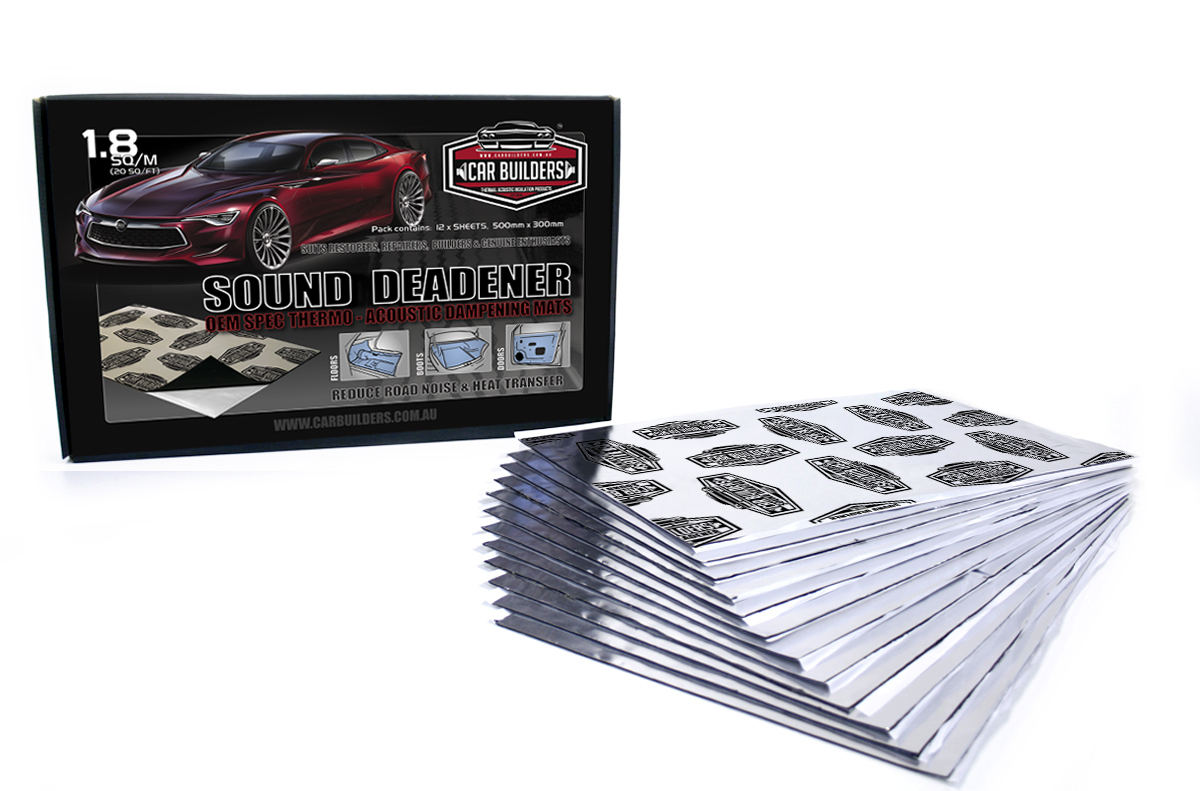 Sheet sizes is:

300mm x 500mm

All our colour options are the exact same sound deadener - same price, same size, same butyl rubber. It is only the colours that is printed on the top that changes.

Silver - Silver with black logo
Black - Black with silver logo
OEM Silver - Plain silver no logo
OEM Black - Plain black no logo
Appearance:
Black Butyl based core with silvery aluminium reinforced layer backed with white wax paper release liner.

Thickness:
2.0 - 2.2mm
Weight:
3.2kg/p sm

Acoustic Loss Factor:
(ASTM method E756 @ 200Hz, Temperature range -10°C to +60°C)
0.08 to 0.41

Recommended Install Temperature:
-10°C to +60°C

Resistance Temperature Range:
-40°C to +149°C

Chemical Resistance:
Resistant to water and mineral oils

Adhesive Peel Strength:
65N/cm on cold steel

Storage:
Product should be stored at room temperature for best application and should be stored horizontally in its package.
Customer Reviews
---
Excellent product
By:

Adam Dal santo

on 20 February 2021
Excellent product, I've just finished doing my Holden Ute. Works very well easy to use, easy to cut with scissors, I'm very happy with the product will definitely buy again.
20/2/2021
Excellent product
By:

Tyson

on 13 February 2021
Used a box on my floor pan excellent quality
13/2/2021
Troopy revamp
By:

Phill Goodwin

on 7 February 2021
I used a box of black to go over my wheel well and it has worked a treat, easy to use & simple
7/2/2021
Easy as 1-2-3
By:

Sean

on 27 January 2021
Great service and an easy to use product, pre-form shape and size, peel, stick and roll out... can't go wrong
27/1/2021
Fantastic results
By:

Peter @ Perentieoverland

on 18 January 2021
Just finished the install of the sound deadening in my Perentie 6x6 the difference now is fantastic, great products and easy to install
18/1/2021
Sound deadened
By:

Dylan

on 11 January 2021
great for stopping noise in your car easy to install and not to big a bulky to store around the house for a while
11/1/2021
awesome product
By:

Ashley

on 10 January 2021
awesome product install was easy really happy
10/1/2021
32 Ford 3 window coupe
By:

Rodney Frood

on 20 December 2020
Just installed in the doors , dickie seat and roof. Great product and so easy to use for home builders. Will be ordering more to finish off inside rear quarters and floor.
20/12/2020
Easy to use and great results
By:

Julian

on 29 November 2020
Bought some sound deadening mats and mass loaded vinyl. Products were shipped quickly and were easy to install using their roller! Mass loaded vinyl is very effective, if you need a more durable surface go with the sound barrier floor mat! This is great stuff!
29/11/2020
Great stuff!
By:

Kurt Neist

on 25 October 2020
The previous owner of my HJ47 had done most of the cab with this before I bought it. I bought another box to finish the job. Firewall, floor, rear wall and inside doors have all been done now. It is so quiet inside it could be a much more modern vehicle!
25/10/2020
Absolutely fantastic!
By:

Shelley Reardon

on 12 October 2020
We bought a new van that was so noisey people couldn't hear us when we phoned them from the van, we used this on the wheel archers, side panels and roof. It worked! Easy to apply- watched the videos on how to. Would highly recommend
12/10/2020
Quiet Hyundai iLoad
By:

Brad Pigott

on 13 September 2020
So my youngest daughter purchased a Hyundai iLoad to convert into a campervan and I came across Car Builders sound Deadener by chance while getting ideas on how to fit the van out, damn glad I did! Because we will be fitting out the rear we striped it back to the shell which made it easier to install, also removed the roof lining and did above the drivers/passengers heads. The difference is simply amazing! The roof no longer sounds like a bloody empty tin can but a Rolls Royce (not that I'd know mind you). The daughter was keen to fit the sound deadener herself so a 27 YO woman that as a DIY person, makes a good nurse basically did the whole van. I'm just glad I managed to save one box so I can do the rear of my Prado. This product is an absolute must do, if you have your car/van/truck stripped back it really is a no brainer. I can't seem to upload pictures regrettably.
13/9/2020
Soundproof
By:

Arnold putman

on 9 September 2020
Looks good, and that easy to do even a hillbilly like me can do it. Cuts easy also so can be formed to most shapes I noticed thou I used the round ended screw driver handle to form some of them so will be getting more soon . Thanks again .
9/9/2020
Good stuff
By:

Geoff

on 26 July 2020
Good product, easy to install
26/7/2020
The proof is in the pudding
By:

Nicholas

on 20 July 2020
I have purchased and installed the sound deadener using the install kit to my Landy Defender. The difference is immense, I can finally hear whats playing on the radio. Cannot speak highly enough of the product
20/7/2020