Car Builders Sound Deadener is a vibration (sound) dampening mat. The material consists of an anti-drum noise absorption layer, combined with an aluminium top layer forming a heat and acoustic barrier. Its pressure sensitive self-adhesive back conforms and fuses easily to sheet metal and other hard substrates. It has excellent performance for acoustic dampening under varying temperature ranges and is highly resistant to aging.
Butyl Mat is today's lightweight alternative to traditional bitumen body dampening. Our Sound Deadener is best suited to restorers, repairers, vehicle builders and audio enthusiasts, who demand acoustic and heat insulation as bench marked by leading automotive manufacturers.
Installing Sound Deadener
See more clips on installing on our YouTube channel
(SD_PARENT)
Sound Deadener comes packaged in 1.8sq/m (20sq/ft) boxes, see below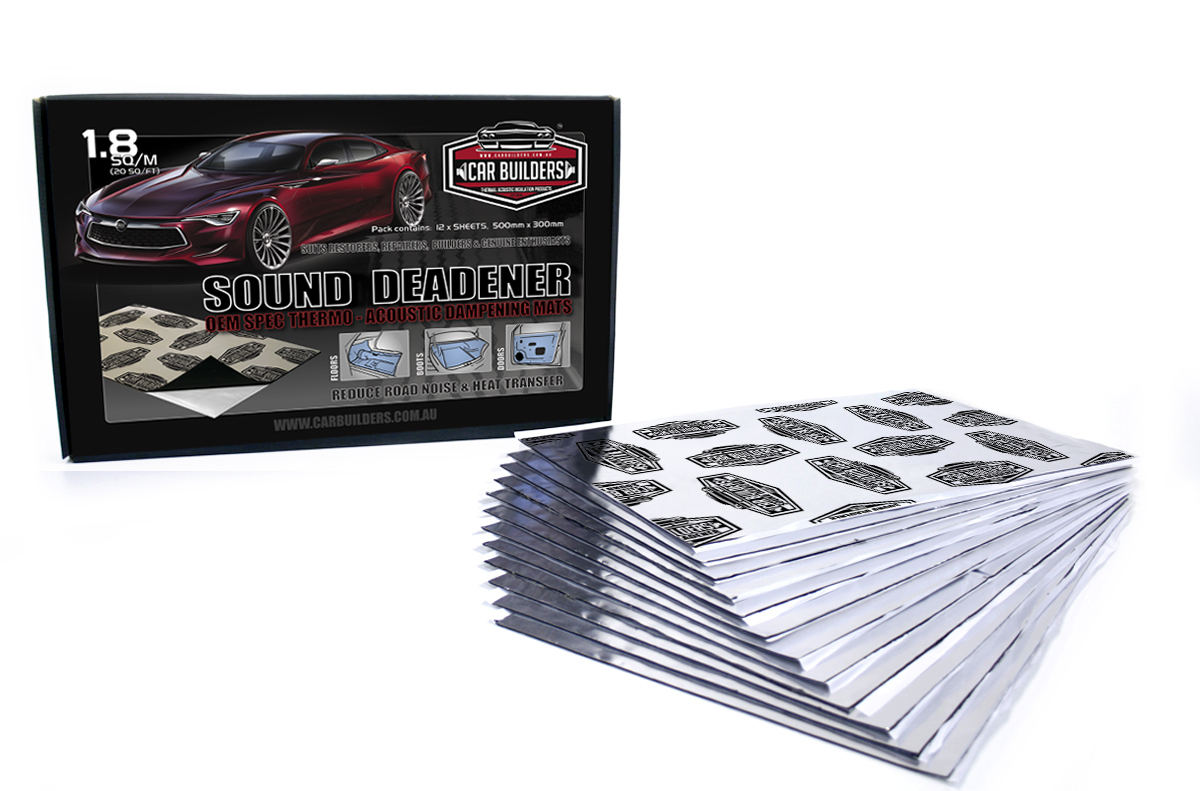 12 x sheets

Sheet sizes are:

300mm x 500mm
Appearance:
Black Butyl based core with 4 mil silvery aluminium reinforced layer backed with white wax paper release liner.

Thickness:
1.8 - 2.0mm
Weight:
3.2kg/p sm

Acoustic Loss Factor:
(ASTM method E756 @ 200Hz, Temperature range -10°C to +60°C)
0.08 to 0.41

Recommended Install Temperature:
-10°C to +60°C

Resistance Temperature Range:
-40°C to +149°C

Chemical Resistance:
Resistant to water and mineral oils

Adhesive Peel Strength:
65N/cm on cold steel

Storage:
Product should be stored at room temperature for best application and should be stored horizontally in its package.
Customer Reviews
---
Great products and even better service
By:

Richard Lane

on 24 April 2019
I recently used Sound Deadener stage 1, Insu -layer 3mm and Mass Noise Liner to reduce cabin noise in my son's Mitsubishi Challenger PB series. From start to finish I found the Car Builders web site and videos excellent for prompting me to have a go at the DIY job. The comprehensive videos giving first hand experience and knowledge by Brendan are some of the best instructional videos on any DIY product that I have seen. Brendan's instructional videos, and his advice re proper preparation is certainly the key to a good result and a little extra time taken to get the job ready for the Stage 1 Sound Deadener certainly paid dividends.
24/4/2019
Easy to use and effective
By:

Hannes

on 6 August 2018
I used Stage 1 Sound Deadener for my van. Even as a first-timer, the product was very easy to apply to roof, walls and floor using the application roller.
6/8/2018
Stage 1 sound deadener.
By:

Jim Dow

on 2 January 2018
Easy to use, just peel and stick. Some cutting around irregularly shaped areas, but it was not difficult. It is fairly heavy, and I estimate probably close to 100 kg increase in weight for a Mercedes Sprinter. The difference is beyond comparison, from a rattly booming van, to a quiet ride in which I can hear the stereo without turning it up to kill. Brendan from CarBuilders was most helpful, and I would recommend dealing with him.
2/1/2018
Aluminium acoustic tape
By:

Nicholas Woods

on 4 November 2016
Great product and arrived quickly, very happy
4/11/2016
AWESOME SOUND DEADENER
By:

Jim Grant

on 23 August 2016
Great stuff to use....even in the depths of Melbourne's cold winter......STICKY......EASY TO CUT/PLACE.....STRETCHES DOWN TO THE BOTTOM OF ALL THOSE SWAGES AND DRAIN HOLES. You don't need to stick it EVERYWHERE!!!! like u see on the Internet.......just tap on the surface to see if it drums......if so, then go ahead. Just make sure the surface is clean before u start.....Prepsol or metho make for great surface preparation. Buy and use the roller to save yourself some grief, the urethane roller is MUCH BETTER than a hardware store version. Use the back of the handle to squish into corners and grooves. Disclaimer. I'm a friend of Brendan's but I chose the product because of its quality.
23/8/2016
Deadener
By:

Daniel W

on 22 March 2016
Top Stuff, Best Deadener available in my opinion! Easy to use!
22/3/2016
Install in Ford XRAnniversary
By:

Colin

on 7 March 2016
I received great advice from Brendan from the first enquiry that I made. On his advice I purchased the sound deadener install kit. It was perfect for installing on all four door skins. The results are beyond my expectations. Road noise has been substantially reduced and sound quality from the stereo has been improved. If I change cars I will be back car builders for more product to install. Cheers
7/3/2016
Hilliman Imp
By:

Andrew Bryson

on 3 February 2016
Just fitted sound deadening on the engine cover, rear deck and front doors on my Hillman Imp. Totally killed most resonaces and rattles, car much more civilised. Very easy to fit
3/2/2016
sound deadener
By:

daniel

on 1 February 2016
very quick postage, can not fault the product. installs really easy, purchased for a car audio install and i am extremely happy with it.no more rattles from the boot or front doors,will definitely be getting more
1/2/2016
Highly effective
By:

Bob Dawes

on 24 January 2016
I used the sound deadener in the boot well,doors and rear quarter panels of my new Toyota 86 to reduce road noise and was pleasantly surprised by how effective it was. It was easy to cut to shape and install with minimal mess. I then added the 6mm acoustic foam to the rear of the trim items to further enhance the sound deadening qualities.
24/1/2016
5.4 sq/m (60 sq/ft) Sound Deadener
By:

Cie

on 8 December 2015
Great product. Simple to install, and shapes to where ever you want to put it. Looks good too.
8/12/2015
Fantastic
By:

Jill Walsh

on 26 July 2015
Great product, Easy installation, Works a treat in a 45 year old wagon....Would definitely recommend this product
26/7/2015
Great product!
Very good product I was extremely happy with the service and the quality of the product, I might need a roll of aluminium tape for the last batch of product ;)
23/6/2015